GWorkflowDL: Generic execution of programs
Created: 2008-11-25 13:44:02 Last updated: 2008-11-25 13:45:33
This workflow is an example of the execution of an arbitrary command line program. This workflow transfers a tar.gz package containing the linux program "date" to a free Grid resource, unpacks, and executes it. After execution the URL to the file with the standard output is available on "stdout", the standard error on "stderr".
Preview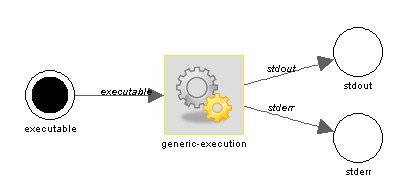 Run
Not available
Workflow Components
Not available

Workflow Type

Uploader

Version 1 (of 1)

Credits (1)
(People/Groups)

Attributions (0)
(Workflows/Files)
None

Tags (6)
Log in to add Tags

Featured In Packs (0)
None
Log in to add to one of your Packs

Statistics

Other workflows that use similar services
(0)
There are no workflows in myExperiment that use similar services to this Workflow.