KNIME Workflow for RetroRules and Retropath2.0
Created: 2018-07-26 12:52:55 Last updated: 2018-08-11 18:00:56
This worflow provides an examples of retrieving the RetroRules reaction rules for some given reaction identifiers.
1. Input to the workflow: Chemical reactions expressed using public database identifiers.
2. Each reaction queries RetroRules and outputs the corresponding reaction rules.
3. Resulting list of rulesenzymes is stored in a csv file in RetroPath2.0 format.
Release: r20180725
How to cite
Duigou T, Du Lac, M., Carbonell P, Faulon JL. RetroRules: a database of reaction rules for engineering biology.
Please report bugs to pablo.carbonell@manchester.ac.uk
Worfklow Licence: CC BY-SA
P. Carbonell, 2018.
This work is licensed under the Creative Commons Attribution-ShareAlike 4.0 International License. To view a copy of this license, visit http://creativecommons.org/licenses/by-sa/4.0/.
Preview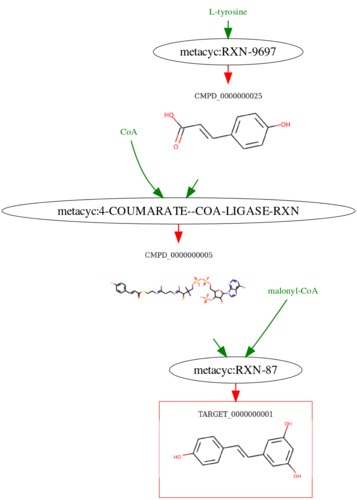 Run
Not available
Workflow Components
Not available

Workflow Type

Uploader

License

Version 2 (of 3)

Credits (1)
(People/Groups)

Attributions (0)
(Workflows/Files)
None

Tags (6)
Log in to add Tags

Shared with Groups (1)

Featured In Packs (0)
None
Log in to add to one of your Packs

Statistics

Other workflows that use similar services
(0)
There are no workflows in myExperiment that use similar services to this Workflow.