Q5: For molecules that contain substructure X, retrieve all bioactivity data in serine protease assays.
Created: 2014-09-29 17:23:35 Last updated: 2014-09-29 17:27:44
This workflow requires the input of a substructure of a chemical as represented as a SMILES string and a class of targets from either the ENZYME or Chembl target classification. It answers one of the scientific use cases (Question 5 see K. Azzaoui et al. Scientific competency questions as the basis for semantically enriched open pharmacological space development. Drug Discov. Today 18 (2013), p. 843-852) that was used as the basis for the development of the Open PHACTS Discovery Platform.
Preview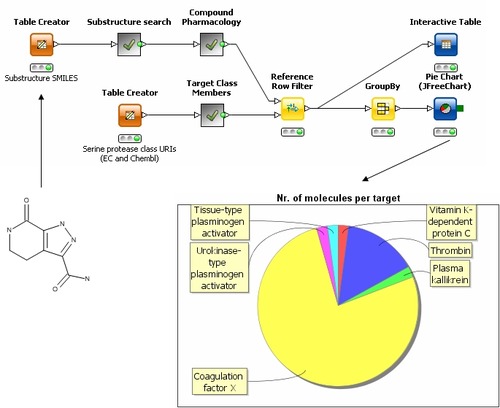 Run
Not available
Workflow Components
Not available

Workflow Type

Uploader

Version 1 (of 1)

Credits (3)
(People/Groups)

Attributions (0)
(Workflows/Files)
None

Tags (2)
Log in to add Tags

Shared with Groups (1)

Featured In Packs (1)
Log in to add to one of your Packs

Favourited By (1)

Statistics

Other workflows that use similar services
(0)
There are no workflows in myExperiment that use similar services to this Workflow.