Chemical term extractor - text2structure
Created: 2013-04-22 07:39:33 Last updated: 2013-04-22 07:42:25
This workflow demonstrates how to extract biological and chemical terms (text!) from a PDF file using the KNIME text processing nodes and attempts to convert the chemistry terms to structures.
Requirements:
KNIME 2.7.4
KNIME Labs nodes - Text Processing
Community Nodes - RDKit (to view structures)
See http://tech.knime.org/community
Start by selecting the folder containing the PDF documents. Alternatively, you can use a folder with Word docs.
Preview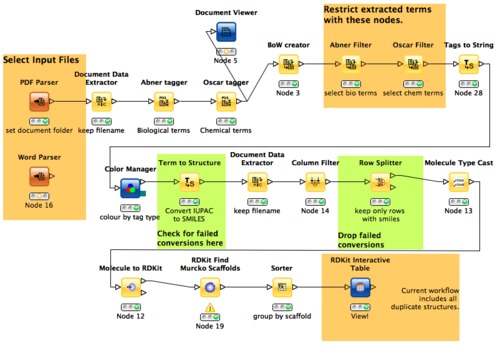 Run
Not available
Workflow Components
Not available

Workflow Type

Uploader

Version 1 (of 1)

Credits (1)
(People/Groups)

Attributions (1)
(Workflows/Files)

Tags (5)
Log in to add Tags

Shared with Groups (1)

Featured In Packs (0)
None
Log in to add to one of your Packs

Attributed By (1)
(Workflows/Files)

Statistics

Other workflows that use similar services
(0)
There are no workflows in myExperiment that use similar services to this Workflow.