Get Silly Vamp
Created: 2011-09-27 18:18:01 Last updated: 2011-09-27 18:18:03
This workflow grabs the Silly Vamp comic strip. It is inspired by the Taverna workflow to get the latest XKCD comic.
The comic date can be customized. Please right-click on "IMAGE NAME" and change the value
to the specific date you want. The date format is
YYMMDD
For example, June 26, 2011 would be:
110626
Preview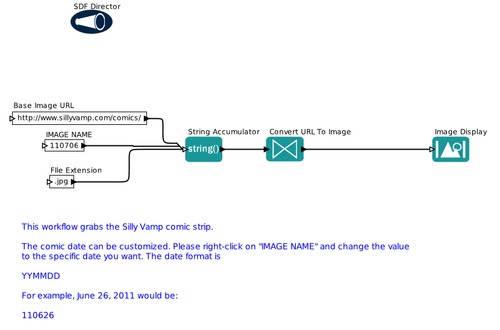 Run
Running Kepler workflows is currently unsupported.
Workflow Components
Reading Kepler workflow internals is currently unsupported.

Workflow Type

Uploader

Version 1 (of 1)

Credits (1)
(People/Groups)

Attributions (0)
(Workflows/Files)
None

Tags (3)
Log in to add Tags

Shared with Groups (1)

Featured In Packs (0)
None
Log in to add to one of your Packs

Statistics

Other workflows that use similar services
(0)
There are no workflows in myExperiment that use similar services to this Workflow.