Image Registration Meta Algorithm (IRMA)
Created: 2011-04-06 01:39:08 Last updated: 2011-07-14 01:09:06
Overview - Workflow-Title
In this workflow different registration algorithms are applied to the same image and the image that is best registered to the template is chosen as the output top candidate.
Problem addressed by this workflow
In this workflow various registration algorithm is performed on the same subject. The algorithm that gives the best result is chosen. This might be different for different input images. This workflow is robust and picks the best-registered image. Other registration algorithms could also be added to the workflow.
Detailed Workflow Usage & Specifications
Inputs: Raw MRI images are the inputs and also the Atlas to which all the input images are required to be registered.
Various registration algorithms like, Align Linear; Align Warp; FSL FLIRT; MINC Tracc are used here to do the registration.
URL: http://www.loni.ucla.edu/twiki/bin/view/CCB/IRMAWorkflow
Try this pipeline workflow online now!
Preview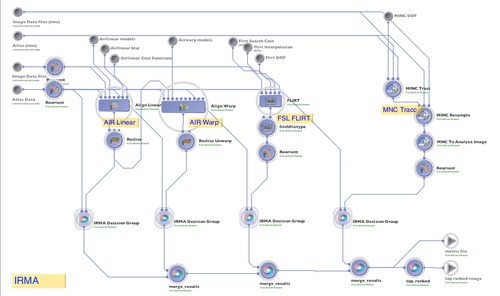 Run
Not available
Workflow Components
Not available

Workflow Type

Uploader

Version 1 (of 1)

Credits (1)
(People/Groups)

Attributions (0)
(Workflows/Files)
None

Tags (5)
Log in to add Tags

Shared with Groups (0)
None

Featured In Packs (0)
None
Log in to add to one of your Packs

Statistics

Other workflows that use similar services
(0)
There are no workflows in myExperiment that use similar services to this Workflow.