Phylogenetic Study Using the Bio Extract Server
Created: 2010-06-17 16:34:50 Last updated: 2010-07-19 20:00:00
This workflow, created using the BioExtract Server, contains a nucleotide query (using the NCBI Core Nucleotide Database), Blastn (against the Homo sapiens genome), Blastn (against the Mus musculus genome), the Format Conversion tool, the Fetch Translator Tool, and ClustalW. This workflow was created following the analytical steps described in the journal article "Resolution among major placental mammal interordinal relationships with genome data imply that speciation influenced their earliest radiations" by Bjorn M Hallstrom and Axel Janke, published in BMC Evolutionary Biology. Although the workflow was based off of the study described in this article, it can be used in other experiments to find the phylogenetical distance between different genomes.
Note: In order to select specific sequences to be used in the workflow, the user must execute the workflow and then pause each of the two "blastn" steps before they begin. The user can then go to the "Extracts" tab and select the results that they would like to use. Once back in the "Extracts" tab, the "Execute/Resume" button at the top of the workflow must be clicked to resume the process.
Preview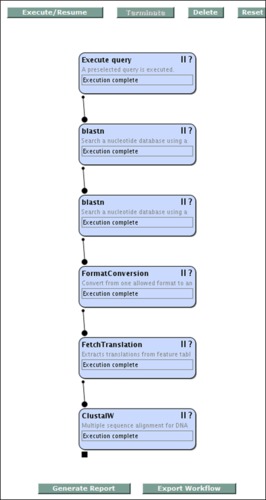 Run
There was a problem when determining the run options of this workflow.
Workflow Components
Not available

Workflow Type

Uploader

Version 2 (latest) (of 2)

Credits (2)
(People/Groups)

Attributions (0)
(Workflows/Files)
None

Tags (4)
Log in to add Tags

Shared with Groups (0)
None

Featured In Packs (0)
None
Log in to add to one of your Packs

Statistics

Other workflows that use similar services
(0)
There are no workflows in myExperiment that use similar services to this Workflow.